Vasota
At a Glance
| | |
| --- | --- |
| Trek | Vasota |
| Alias | Vyaghragad |
| Type | Hill Fort |
| District | Satara |
| Height above mean sea level | 3842 feet |
| Base Village | Met Indavali |
| Minimum Duration | 3 Days (2 Nights) |
| Region | Satara |
| Transport | Reach Satara by train/bus. From Satara reach Bamnoli (35 Km.) by bus. From Bamnoli go by launch to Met Indavali (1 ½ hr). Per launch about 400 Rs/- (1 way) irrespective of no. of members |
| Time to reach the top | About 3 hours from the base |
| Water Availability | Two cisterns are at the top on Vasota, but it looks a bit muddy. Potable water is available at Nageshwar |
| Best season to visit | Any Time |
| Sights to visit | Nageshwar temple, Babu kada, Old Vasota. |
| Difficulty Rating | Simple |
| Shelter | In a temple at Vasota (for 6-7 people max), in Nageshwar temple about 20-25 people. |
Location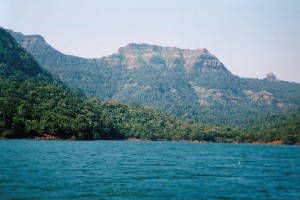 Situated on the western edge of Satara district, this old warrior offers one of the most thrilling trek in the Sahyadri as far as trekking through forestation is concerned. Dense forest all the way through, panoramic view of the Shivsagar lake in the east and Konkan on the west, wonderful cave at Nageshwar for a stay, makes this a fort of special interest for amateur trekkers and photographers
Having reached Satara by bus/train, one can catch a bus for village Bamnoli (about 35 km,1st bus at around 6.00 am). Hire a launch for Vasota (about Rs. 400 irrespective of no. of people. So it's better to have a group of at least 8-10 people). 1-1/2 journey through launch will take you to village Met Indavali (no habitants at present). From here, 2-2 1/2 hours trek will take you to the top
Precaution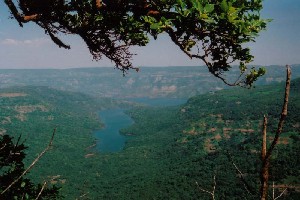 Dense forest is really a thrilling but enjoyable experience. Take care of being in a group all the time! Anyhow try to reach Vasota in a day time. If one wishes to have a stay at Nageshwar (which is most preferred), then leave Vasota by 3 p.m. max, because the forest on the way to Nageshwar is still denser. Way to Nageshwar goes to the right, just about 10-15 min before the top of Vasota. Water cistern at Nageshwar is situated to the right (on about 5 min distance), just before the steps to the cave.
Sight Seeing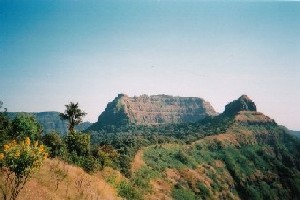 Though not too much of remnants are present on Vasota, the view of Koyna backwaters on one side and Kokan on the other side is quite satisfying. The Mahadev temple at the top can also be used as shelter for a small group of 5-6 people. One can also check out the Babu Kada and old Vasota.
More photographs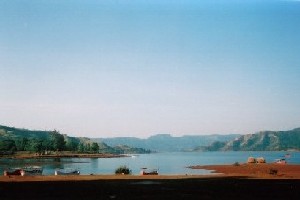 Serene water, hills all around, lonely launches waiting for the ride to Met Indavali ( forVasota) or Tapola (for Mahabaleshwar).......such a scene has to be experienced.......at least once in a lifetime.
For more photographs follow this link
Note
All references regarding duration of trek and transport are given with respect to Kalyan
Contact
cdeepan@gmail.com Deepan Ashok Choudhary
abhijit.avalaskar@gmail.com Abhijit Ulhas Avalaskar
Last updated on : 1st Dec 2005