Matheran
At a Glance
| | |
| --- | --- |
| Trek | Matheran |
| Alias | - |
| Type | Hill Station |
| District | Raigad |
| Height above mean sea level | 2530 feet |
| Base Village | Neral |
| Minimum Duration | 1 Day |
| Region | Karjat |
| Transport | Kalyan to Neral by train, Neral to Matheran by vehicle/train/walk |
| Time to reach the top | About 30-35 min by vehicle, 2 1/2 hrs by train, 3 hrs by walk. |
| Water Availability | Being Hill station hotels are available at the top |
| Best season to visit | Any Time |
| Sights to visit | Lot of points are there to visit like echo point, panorama point etc.. |
| Difficulty Rating | Simple |
| Shelter | Hotels, rooms on rent, MTDC resorts |
Location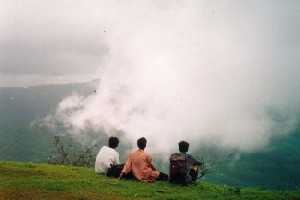 Matheran truely is Maharashtra's one of the most beautiful and well maintained hill station. The availability of road and railway have made it accessible to all people irrespective of their age. Also the ban on motor vehicles inside Matheran have helped to preserve its beauty and keep intact its natural touch. The presence of hotel's and lodging boarding facilities have made it possible to have a multi-day stay in Matheran and thoroughly enjoy nature's beauty. Due to ban on motor vehicles in Matheran the modes of transport in Martheran are limited to horses and rickshaws (pulled by humans), however seeing the various points in Matheran by walking is a real pleasure!
Matheran is situated in the Matheran range of sahyadris at a height of 2516 feet. To reach Matheran one has to first reach Neral. Neral is well connected to Mumbai by rail and road. From Neral, Matheran can be reached by a narrow gauge railway or by taxies. Railway function normally in summer and winter season. Taxies leave you at Dasturi Naka, where after paying tax you can proceed towards Bazarpeth. Train directly takes you to the bazarpeth. One can even reach Matheran by foot.
Precaution
No special precaution is needed at Matheran, however beware of the leach's which are found in abundance in Matheran!.
Sight Seeing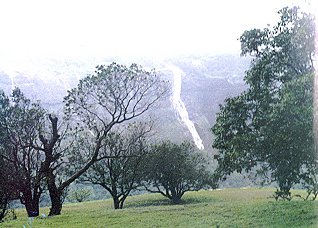 Matheran has 38 points at which one can get a glimpse of nature's beauty. However to cover most of these points requires at least one night stay in Matheran. Point seeing in Matheran is quiet easy due to the presence of sign boards and map. Maps are also easily available in Matheran and can be used to plan your point seeing. Given below are few points which shouldn't miss.......
More photographs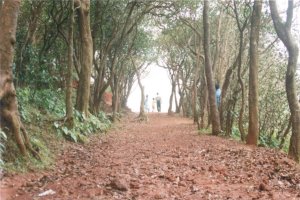 Echo point
Offers a panoramic view and allows you to enjoy the echo's.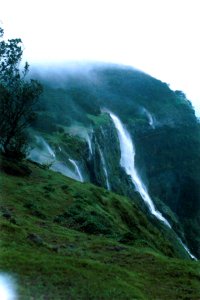 King George point
A must visit point in monsoon as it offers a beautiful view of the waterfall formed by the water overflowing from Chharlott Lake. One can even reach he mouth of the waterfall with care. Strong wind prevents the water from falling down and throws it back.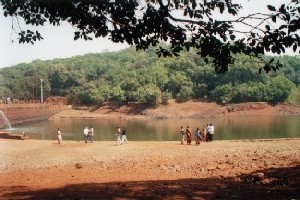 Chharlott Lake
It's the only water source atop Matheran and it provides water to entire Matheran.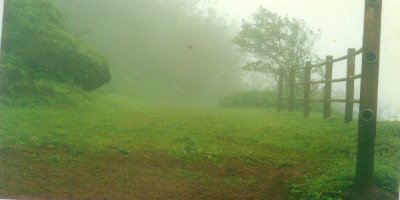 Panorama point
Although quite far from Bazarpeth, it gives you a panoramic view (that's why it's named as Panorama point) of the Sahyadri ranges.
Note
All references regarding duration of trek and transport are given with respect to Kalyan
Contact
cdeepan@gmail.com Deepan Ashok Choudhary
abhijit.avalaskar@gmail.com Abhijit Ulhas Avalaskar
Last updated on : 1st Dec 2005