Hadsar
At a Glance
| | |
| --- | --- |
| Trek | Hadsar |
| Alias | - |
| Type | Hill Fort |
| District | Pune |
| Height above mean sea level | 4680 ft (1431 m) |
| Base Village | Hadsar |
| Minimum Duration | 2 Days |
| Region | Junnar |
| Transport | Kalyan to Junnar (road, ~ 125 km) - Hadsar (road, 16 km) |
| Time to reach the top | About 1 1/2 hrs from Hadsar |
| Water Availability | Water cisterns are there but water isn't potable |
| Best season to visit | Any time except summer |
| Sights to visit | Shiv Mandir, Water cisterns, caves, Darwaja etc. |
| Difficulty Rating | Simple |
| Shelter | Shiv Mandir |
Location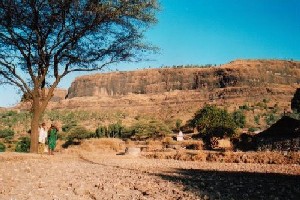 This fort (along with Chavand, Shivneri and Jidhan) guards Naneghat - the ancient trade route between Junnar (plateau) and Kalyan, Nalasopara (both in Konkan). Reaching Junnar, one has to catch a bus (Nimgiri bus or Rajur no.1 bus) to reach village Hadsar which is only 16 km from Junnar. Reaching the village, walk for about 5 min on the tar road towards Chavand side. A well lies on the right hand side. Take a right turn here and you will reach a plateau in 10 mins. Walking ahead with Hadsar on right hand side, one sees a gully. Top can be approached through this gully (fortification can be seen at the top from the gully). Another way is from the left face (western face) of the fort and is the easiest route. Third route goes via eastern face of the fort.
Precaution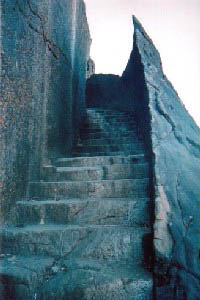 Water could be a problem in summer so carry ample water from the base itself.
There are 3 routes to reach the top. The one from eastern side, the one from western side and the third through the gully. Be very careful while approaching the top via eastern side route. It's a tough one
Sight Seeing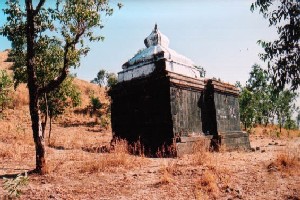 Darwaja's (gates) and rock carved steps of Hadsar are simply wonderful (see the snap above). Shiv Mandir is nice as well. Just recently (in 2004) some local (??) people have painted this wonderful black temple with a white lime paint and somewhat degraded the beauty of temple.
Note
All references regarding duration of trek and transport are given with respect to Kalyan, which is about 50 km north-east of Mumbai.
Contact
cdeepan@gmail.com Deepan Ashok Choudhary
abhijit.avalaskar@gmail.com Abhijit Ulhas Avalaskar
Last updated on : 1st Dec 2005