Gorakhgad
At a Glance
| | |
| --- | --- |
| Trek | Gorakhgad |
| Alias | - |
| Type | Hill Fort |
| District | Thane |
| Height above mean sea level | 2140 feet |
| Base Village | Dehari |
| Minimum Duration | 1 Day |
| Region | Malshej |
| Transport | Kalyan to Murbad by bus, Murbad to Dehari by bus |
| Time to reach the top | About 2 hours from the base |
| Water Availability | Water cistern are available at the top |
| Best season to visit | Any Time |
| Sights to visit | Caves & Temple |
| Difficulty Rating | Simple |
| Shelter | Caves at the top |
Location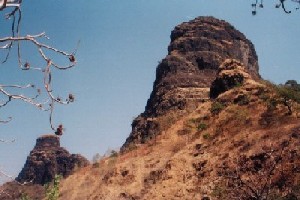 This is a small hill jutted out of the main range. Simple walk, spacious cave at the base of the pinnacle, good drinking water makes it a place of visit for many trekkers.
To reach Gorakhgad, take a bus to Murbad. Regular S.T. service is available for Murbad from Kalyan. From Murbad then take a bus to Dehari. Two hours climb from Dehari will take you to the summit.
Precaution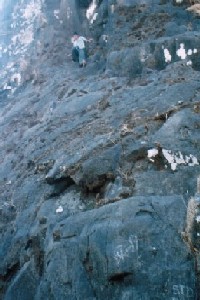 Reaching the cave is quite an easy trek. However, if one wishes to go to the top in the temple, then one will have to be a bit careful covering the rest patch! It's a thrill......enjoy it! However, it's better not to try this patch in the monsoon when the rocks are slippery.
Sight Seeing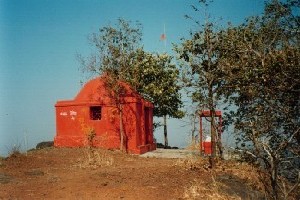 Reaching the top of the Gorakhgad is a nice thrill that one should enjoy, except in the monsoon! The view around, is wonderful........Siddhagad in the south-west and Naneghat, Jivdhan, Dhakoba in the east, offers a nice panorama.
More photographs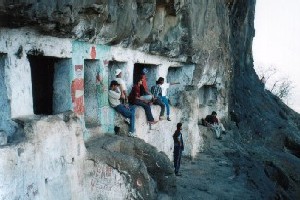 Spacious cave to have a stay is another attraction of Gorakhgad.
Note
All references regarding duration of trek and transport are given with respect to Kalyan
Contact
cdeepan@gmail.com Deepan Ashok Choudhary
abhijit.avalaskar@gmail.com Abhijit Ulhas Avalaskar
Last updated on : 1st Dec 2005