Ratangad
At a Glance
| | |
| --- | --- |
| Trek | Ratangad |
| Alias | - |
| Type | Hill Fort |
| District | Ahmadnagar |
| Height above mean sea level | 4255 feet |
| Base Village | Ratanwadi |
| Minimum Duration | 2 Days |
| Region | Igatpuri |
| Transport | By train/vehicle reach Igatpuri. Village Shendi/Bhandardara is about 35 km from Igatpuri (1st bus at about 5.15 am). From Shendi, walk to village Murshet, cross the lake by launch (enquire to local people for the timings), land on the other side of the lake and reach village Ratanwadi. If you have your own vehicle, you can go on other side by the road and reach Ratanwadi directly |
| Time to reach the top | About 3 hours from the base |
| Water Availability | Water cisterns are available at the top |
| Best season to visit | October to February |
| Sights to visit | Darwajas (Gates), caves, nedhe (natural hole to the hill), Amruteshwar temple, Bhandardara lake. |
| Difficulty Rating | Simple |
| Shelter | Caves at the top (1 small for 8-10 people and one big cave for 40-50 people) |
Location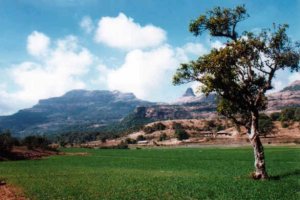 Ancient, well preserved templeof Lord Shiva at the base, some mammoth sized hills in the juxtapose, including "Kalasubai"- the highest point in Maharashtra, one of the oldest artificial dams in the vicinity - Bhandardara, great, panoramic view all around........ all this describes nothing but the Ratangad fort
Igatpuri is the most convenient station and can be approached either by train or vehicle. From Igatpuri the first bus for Bhandardara leaves at about 5:15 am and it reaches village Shendi/ Bhandardara within 1 1/2 hr (~ 35 km.). The Bhandardara lake has to be crossed by launch. Launch timings are not fixed, enquiry about the same can be made at Shendi.
Precaution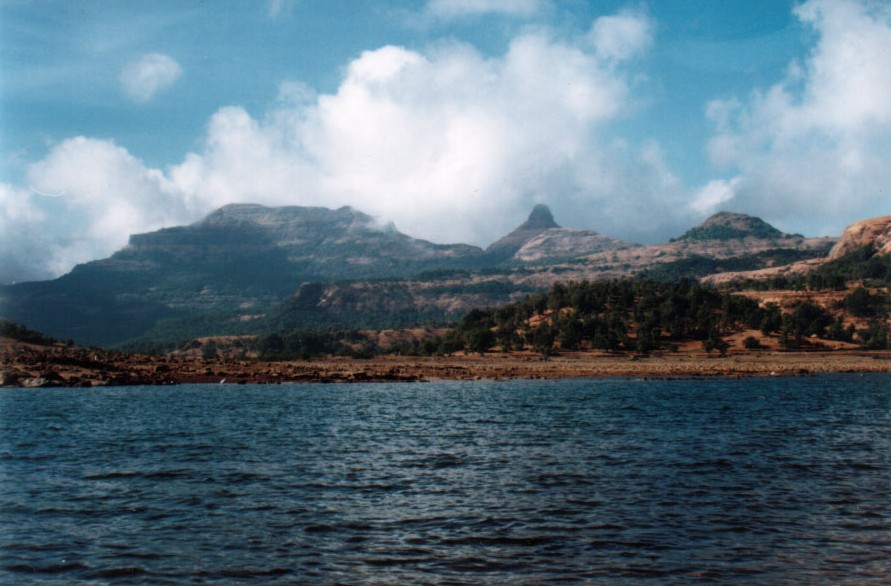 Trek as such is quite simple. In order not to waste time, one should try to catch the 1st bus for Bhandardara and then the launch which normally comes for a ferry from Murshet to Ratanwadi. Have enough water from Ratanwadi itself as there is no water on the way.
Sight Seeing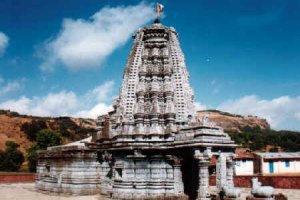 Top of Ratangad has two caves in which stay can be made. One can go around the fort to have a look at the nearby mountains in the Kalsubai range. Ratangad also has a natural orifice (nedhe). It is also possible to go an sit in this nedhe .
About 1000 years old temple of Lord Shiva, the Amruteshwar Temple at Ratanwadi, is an absolute paragon of high class architecture of our ancestors.
More photographs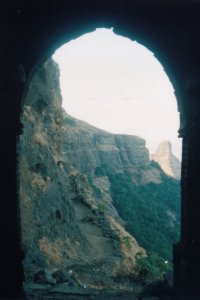 To have a journey through a lake with an absolutely clear water, blue firmament overhead, highest summit of Maharashtra on the back, mammoth hills of Alanggad, Madangad and Kulanggad on the right side, is a real treat. No matter whether you have your own vehicle to reach Ratanwadi......you shouldn't miss this little journey through allayed lake
For more photographs follow this link
Note
All references regarding duration of trek and transport are given with respect to Kalyan
Contact
cdeepan@gmail.com Deepan Ashok Choudhary
abhijit.avalaskar@gmail.com Abhijit Ulhas Avalaskar
Last updated on : 1st Dec 2005