Rajgad
At a Glance
| | |
| --- | --- |
| Trek | Rajgad |
| Alias | - |
| Type | Hill Fort |
| District | Pune |
| Height above mean sea level | 4520 feet |
| Base Village | Vajeghar / Pali |
| Minimum Duration | 2 Days |
| Region | Pune |
| Transport | Kalyan to Pune road/rail, Pune to Vajeghar/Pali by bus. |
| Time to reach the top | About 3 hours |
| Water Availability | Water ponds are available at the top. |
| Best season to visit | Any Time |
| Sights to visit | PadmavatiTemple, Sanjivani machi, Suvela machi, Padmavati machi, Balekilla etc. |
| Difficulty Rating | Simple |
| Shelter | Temple at the top |
Location
Surely one of the most alluring treks and absolute paragon of high class architecture of chhatrapati Shivaji Maharaj. It's situated in the sierra of sahyadri and in the juxtapose to Torna, the first fort conquered by shivaji. Rajgad has spell bounded many trekkers with its mammoth size, sky touching height(~4600 ft.) and wide-wide spread.
There are four to five different ways to reach Rajgad, one of the easiest way is via Vajeghar-Pali.
Situated south-west of Pune, this fort commands the Bhuleshwar range. Reaching Pune, one can catch a bus for village Welhe or Vajeghar (1st bus from Swargate at around 8.30 am , about 2 hours journey by bus), get down at Vajeghar. From Vajeghar reach village Pali in about 10-15 minutes. From Pali, a good foot track leads to the top by Pali Darwaja in about 2 1/2 hours.
Rajgad can also be approached from village by Gunjavane Darwaja or Chor Darwaja.
Precaution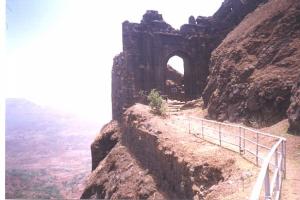 Have enough potable water from village Vajeghar or Pali, as there is no water source in the way
Sight Seeing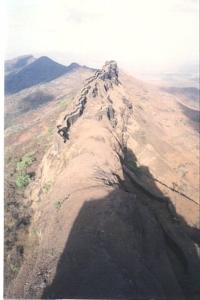 Rajgad being the backbone of Maratha empire was constructed taking into account all aspects and its construction shows the clairvoyance of Shivaji Maharaj. Four main things to look for on Rajgad are
1. Padmavati Machi - it has a Padmavati temple in which the night stay can be made. Drinking water is available from Padmavati lake.
2. Suvela Machi
3. Sanjivini Machi
4. Citadel.
Note
All references regarding duration of trek and transport are given with respect to Kalyan
Contact
cdeepan@gmail.com Deepan Ashok Choudhary
abhijit.avalaskar@gmail.com Abhijit Ulhas Avalaskar
Last updated on : 1st Dec 2005