Kulanggad
At a Glance
| | |
| --- | --- |
| Trek | Kulanggad |
| Alias | - |
| Type | Hill Fort |
| District | Ahmednagar |
| Height above mean sea level | 4820 feet |
| Base Village | Kulangwadi (or Ambewadi from the different route) |
| Minimum Duration | 2 Days |
| Region | Igatpuri |
| Transport | Reach Igatpuri by train or vehicle. From Igatpuri reach village 'Bhavli' by bus or vehicle (1st bus from Igatpuri is at ~ 8.30 am). Walk for about 2 hours till Kurung wadi. |
| Time to reach the top | About 3 hours from Kulangwadi |
| Water Availability | Water cisterns with potable water are available at the top |
| Best season to visit | November to February |
| Sights to visit | Caves, ruins, number of water cisterns, old bandhara |
| Difficulty Rating | Simple |
| Shelter | Caves at the top |
Location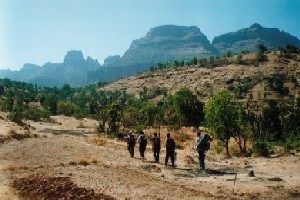 Standing in the front yard of Igatpuri bus stand, the attractive sierra - dominated by this very fort in the east - is a sight to enjoy! Offering the highest climb from the base village in the entire Sahyadri ranges, this fort offers one of the greatest panorama from its top.
Igatpuri, being the main station after theThal ghat, can be approached either by rail or road. Catch the 1st bus (at about 8.30 am) for village Bhavli, and then walk for about 2 hours to the base village Kurung wadi. Take some rest and then get ready for a really wonderful 3 hours trek then on.
Precaution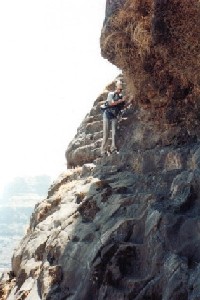 Kurung wadi is the last place for getting potable water till you reach the top, so get your bottles filled with water in Kurung wadi itself. Take some rest, for here on you will have to cover a fairly steep climb for about 3 hours at least! Just when your feet start talking, you get to see some wonderfully carved steps in the rock....with a steep wall of rock on one side and a deep valley on the other side! This patch has to covered with enough care, for by this time you are very tired and might just lose your concentration.....So be careful! During the trek like this just remember one thing......Nothing is dangerous if you take enough care!.
Sight Seeing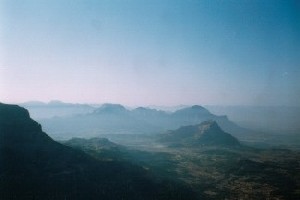 The panoramic view offered from the top of Kulang is one of the best in the Sahyadris. One can see the forts in the Kalsubai range, Baleshwar range and hills right upto Naneghat and Dhakoba
More photographs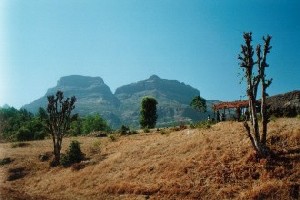 On a very clear day, with a blue firmament on the back ground and small huts in the foreground, makes this a picturesque scene
For more photographs follow this link
Note
All references regarding duration of trek and transport are given with respect to Kalyan
Contact
cdeepan@gmail.com Deepan Ashok Choudhary
abhijit.avalaskar@gmail.com Abhijit Ulhas Avalaskar
Last updated on : 1st Dec 2005