Naneghat
At a Glance
| | |
| --- | --- |
| Trek | Naneghat |
| Alias | - |
| Type | Pass |
| District | Thane |
| Height above mean sea level | 2750 feet |
| Base Village | Vaishakhare |
| Minimum Duration | 1 Day |
| Region | Malshej |
| Transport | Kalyan to Murbad by bus, Murbad to Tokavade by bus, Tokavade to Vaishakhare by bus (one can also get the bus from Murbad to Vaishakhare). |
| Time to reach the top | About 3 hrs |
| Water Availability | Water cistern are available at the top |
| Best season to visit | Any Time |
| Sights to visit | Caves, old transcript, Old Ranjan for toll collection |
| Difficulty Rating | Simple |
| Shelter | Caves at the top |
Location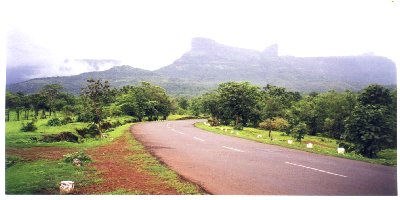 Serving as a trade route for the transport between markets of Kalyan, Nalasopara (Konkan) and Junnar (Plateau) since the times of Satvahanas, this pass today offers you one of the most enjoyable treks in the vicinity of Mumbai
Nane Ghat is situated at about 55 Km from Kalyan. One can reach the base village Vaishakare by boarding the state transport bus passing through Malshej Ghat. From Vaishakare it's about 1/2 a hour walk along the road to Malshej Ghat to reach the divergence for Nane Ghat. Now there is board indicating the divergence so there will be no difficulty in finding the divergence. Once a divergence is taken, it is about 2-3 hours climb to the summit.
Precaution
Take sufficient amount of water when you leave Vaishakare as there is no water in the way till you reach the top. If you are visiting in non-monsoon season it's advisable to carry an anti-dehydrate.
Sight Seeing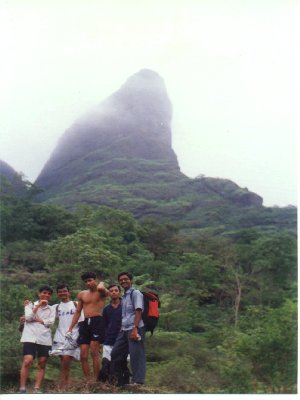 Naneghat offers different beauty in different seasons. In summer and winter, when there are no clouds, view of Jivdhan and Dhakoba is a real pleasure.
More photographs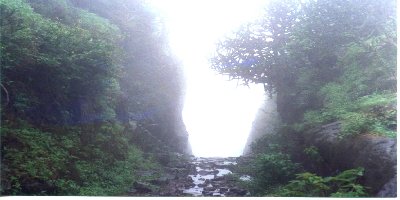 This is the pass that has been serving loyally for the trade between Nalasopara, Kalyan and Junnar. It takes one to a different world when one realizes that he actually is at a pass made in pre Christian era.
For more photographs follow this link
Note
All references regarding duration of trek and transport are given with respect to Kalyan
Contact
cdeepan@gmail.com Deepan Ashok Choudhary
abhijit.avalaskar@gmail.com Abhijit Ulhas Avalaskar
Last updated on : 1st Dec 2005