Salher
At a Glance
| | |
| --- | --- |
| Trek | Salher |
| Alias | - |
| Type | Hill Fort |
| District | Nashik |
| Height above mean sea level | 5140 ft (1543 m) |
| Base Village | Vaghamba |
| Minimum Duration | 2 days |
| Region | Nashik |
| Transport | Kalyan to Nashik (road/rail, ~ 130 km)- Satana (road, 73 km) - Taharabad (road, 23 km) - Vaghamba (road, 20 km) |
| Time to reach the top | About 3 hrs from Vaghamba |
| Water Availability | Water cistern is available at the top |
| Best season to visit | Any time except summer |
| Sights to visit | Parashuram temple, Caves, Water tank and water cistern, Darwaja etc |
| Difficulty Rating | Simple |
| Shelter | Caves at the top |
Location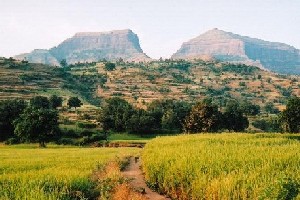 Situated in a wonderful Baglan district of Nashik at the border of Maharashtra and Gujrat, Salher takes a pride of the highest fort in Maharashtra and the second highest peak (after Kalasubai). The Dholbari range in which Salher is situated and Selbari range is the northernmost part of the Sahyadri.
Precaution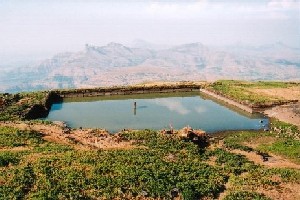 1. Water could be a big problem until you reach the top, especially in the summer when temperature reaches at its high level. So, have your bottles full of water from base village itself. Once you reach the top, a small water cistern (not the big water tank as shown in the snap) provides you potable water.

2. Don't drink water from the big water tank (see snap). It's meant for the cows and buffalos.

3. Flies could be troublesome at times. So just be careful.
Sight Seeing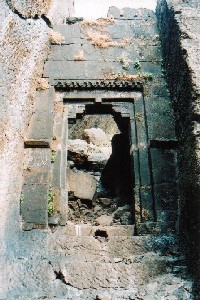 1. Salher has a great, rocky staircase and it's a real joy to watch it from Salota. Having walked the staircase, the big darwaja comes in front. Opposite to the darwaja is a rock carved script.
2. Parashuram mandir is situated on a hillock (about 30 min. from cave). It's the highest point of the fort.
Note
All references regarding duration of trek and transport are given with respect to Kalyan, which is about 50 km north-east of Mumbai.
Contact
cdeepan@gmail.com Deepan Ashok Choudhary
abhijit.avalaskar@gmail.com Abhijit Ulhas Avalaskar
Last updated on : 1st Dec 2005