Siddhagad
At a Glance
| | |
| --- | --- |
| Trek | Siddhagad |
| Alias | - |
| Type | Hill Fort |
| District | Thane |
| Height above mean sea level | 2750 feet |
| Base Village | Narivali |
| Minimum Duration | 1 Day |
| Region | Malshej |
| Transport | Kalyan to Murbad by bus, Murbad to Narivali by bus |
| Time to reach the top | About 3 hours from the base |
| Water Availability | No potable water at the top. |
| Best season to visit | October to February |
| Sights to visit | Ancient remnants. |
| Difficulty Rating | Simple |
| Shelter | No shelter is available. |
Location
Situated amidst Bhimashankar and Gorakhgad, Sidhhagad is known for its wonderful forest and a bit of thrilling patch towards the end.

Kalyan is the nearest convenient railway station. S.T. buses from Kalyan to Murbad (about 30 Km.) are available every after 1/2 hour. From Murbad, catch S.T. bus to base village Narivali (about 15 Km.). 21/ 2 hours walk through dense forest will take you to one village and a temple. Further walk of 1 hour is through barren land. Be careful towards the end.
Precaution
Carry enough potable water from the base village itself as, except from June to November, no potable water is available in the way.
Sight Seeing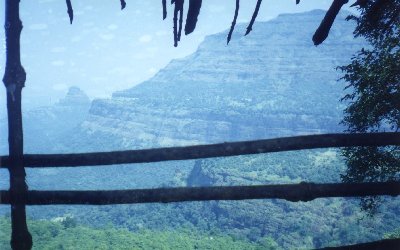 There isn't much to see on the fort except few remnants. However, the trek as such is very much enjoyable, especially in the months of October and November, when few waterfalls are still alive. Some 1/2 hr before the top, there is a nice cave made into a home place of "Sadhu Baba". View of the Gorakhgad and adjacent hills from the entrance of this cave is just wonderful (see the snap). Nice small courtyard in front of a cave could be a great place to sit and have a lunch.
Note
All references regarding duration of trek and transport are given with respect to Kalyan
Contact
cdeepan@gmail.com Deepan Ashok Choudhary
abhijit.avalaskar@gmail.com Abhijit Ulhas Avalaskar
Last updated on : 1st Dec 2005