Rajmachi
At a Glance
| | |
| --- | --- |
| Trek | Rajmachi |
| Alias | - |
| Type | Hill Fort |
| District | Pune |
| Height above mean sea level | 2710 feet |
| Base Village | Kondivde |
| Minimum Duration | 1 Day |
| Region | Karjat |
| Transport | Kalyan to Karjat by road/rail, Karjat to Khandpe by bus (~ 15 km) , Khandpe to Kondivade walk (~ 15 mins) OR Karjat to Kondavane (by rickshaw) |
| Time to reach the top | About 3 1/2 hrs from the base |
| Water Availability | Water cistern are available at the top |
| Best season to visit | Any Time |
| Sights to visit | Two citadels i) Shrivardhan and ii) Manoranjan, Ancient Lord Shiva temple (in Rajmachi village), Ancient temple in the gorge between Manoranjan and Shrivardhan, Caves, Lake , Kondane caves. |
| Difficulty Rating | Simple |
| Shelter | Caves at the top |
Location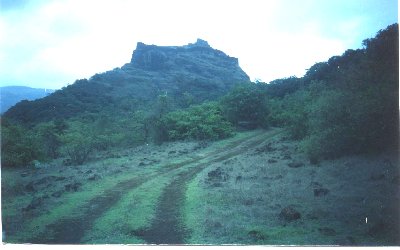 As the train to Pune leaves Karjat and runs slowly up the Borghat, one enjoys some great hills of Sahyadri to the left. This particular section of Sahyadri is commanded by a pair of citadels of Rajmachi - Shrivardhan and Manoranjan. Rajmachi has quiet a lot of significance because of its vital position - keeping an eye on the Borghat, and the beauty that it offers has mesmerized the trekkers for since long
Nearest Railway station to Rajmachi is Karjat. First bus to reach Khandpe from Karjat is at about 4.30 am (Bus for village Sandshi. Get down at Khandpe). 3 hours trek from Kondivde will take you to the village Udhewadi. From here 30 min trek will take you to the top.
Precaution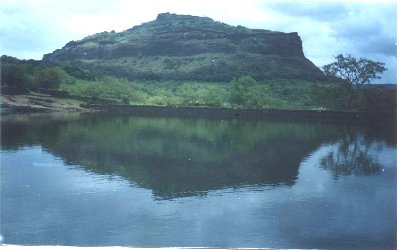 Take enough water from the village Kondivde itself as there are no water sources in the way, however there is abundant water in village Udhewadi and also on the top.
Sight Seeing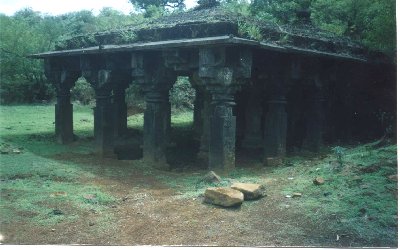 Rajmachi consists of two citadels(Balekilla)
1) Shrivardhan 2) Manranjan. One might even see the caves, old temples and monuments on the way to the top which is another 40 minutes from the village Rajmachi. One can even observe the wonderful reflection of Rajmachi(Shrivardhan) in the pond in the Rajmachi village. Also try to see the Kondane Caves which are about one hour distant from Kondivde and away from the main path to Rajmachi.
Here is a link to a document by Mr. Mukund Gondhalekar that gives more information about this historic fort and the activities carried out by Rajmachi Rural Aid and Development Programme for its conservation and development.
More photographs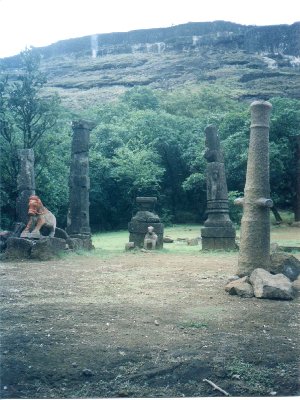 An ancienrt monument atop Rajmachi
For more photographs follow this link
Note
All references regarding duration of trek and transport are given with respect to Kalyan
Contact
cdeepan@gmail.com Deepan Ashok Choudhary
abhijit.avalaskar@gmail.com Abhijit Ulhas Avalaskar
Last updated on : 1st Dec 2005