Lohgad
At a Glance
| | |
| --- | --- |
| Trek | Lohgad |
| Alias | - |
| Type | Hill Fort |
| District | Pune |
| Height above mean sea level | 3420 feet |
| Base Village | Malawali |
| Minimum Duration | 2 Days |
| Region | Lonavala |
| Transport | Reach Lonawala by train/vehicle and then Malawali (the next station towards Pune). From Malawali, 2-3 km walk will take you to the base of the fort. |
| Time to reach the top | About 3 hours from the base |
| Water Availability | Potable water isnít available at the top, so take water from Lohgadwadi (a village just before the top of Lohgad) |
| Best season to visit | Any Time |
| Sights to visit | Many Darwajas (gates), cave, Vinchu kata , old masjid, Bhaje caves. |
| Difficulty Rating | Simple |
| Shelter | Cave on the top or in village Lohgadwadi |
Location
Lohgad is one of the two forts guarding the trade route between Kalyan and Nalasopara harbors & markets of Deccan plateau (other fort being Rajmachi).
Today, most of the forts are in dilapidated states, however Lohgad is still in much better condition. For trekker's Lohgad should be a real treat to visit giving a wonderful panoramic view from its top.
Lohgad is situated about 5 Km. from Malavali station. First one should reach Lonavala by any Central-Southern mail/express, catch a local train from Lonavala to Malavali. From Malavali one can catch a rickshaw to Bhaje village. 1Ĺ hours walk from Bhaje will lead to Lohgadwadi.15 min walk from Lohgadwadi will take you to the top
Sight Seeing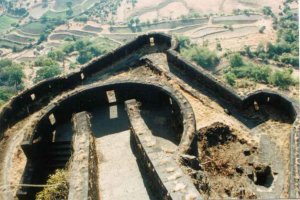 Being a well preserved fort the entrance to the fort is in good condition. The fortification are also quiet good. There are some stone-scripts(Shilalekh) in the den, the only place where night stay can be made on Lohgad. There is a mosque atop Lohgad. From Lohgad, Tung and Tikona hills are seen to the south, Dukes nose at west, Pavana dam offers a wonderful view in the south direction. Lohgad trek could be supplemented by Visapur trek, Bhaje caves & Karla caves in two days programme. The schedule for completing this trek is as follows :
Reach Lonavala by Indrayani or Deccan Express in the morning.
Come to Malavali by local train. Catch a rickshaw for Bhaje village. Reach Bhaje caves within 15 minutes. Have a lunch there and leave for Lohgad.
Reach atop Lohgad by 4:00-4:30 p.m. Have a look around the fort, stay in the den(on the right side(valley side) just after Ganesh Darwaja.)
Leave Lohgad early in the morning (at about 7:00 a.m.) come down and go to Visapur. Reach Visapur by 10:00-10:30a.m. Take a look around and have your lunch at Visapur.
Leave Visapur and come to Bhaje by 1:00-1:30 p.m. catch a rickshaw and go to Karla caves (opposite of of railway station). Have a look around the caves for an hour.
Come down and catch a bus or six seater to Lonavala. Get into Deccan Express (4:25 p.m.) , Udyan Express (5:10p.m.) or Koyna Express (5:20 p.m.) and reach Mumbai.
More photographs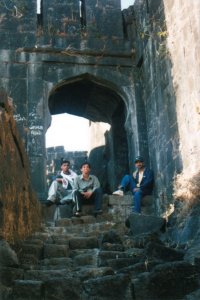 For more photographs follow this link
Note
All references regarding duration of trek and transport are given with respect to Kalyan
Contact
cdeepan@gmail.com Deepan Ashok Choudhary
abhijit.avalaskar@gmail.com Abhijit Ulhas Avalaskar
Last updated on : 1st Dec 2005