Chavand
At a Glance
| | |
| --- | --- |
| Trek | Chavand |
| Alias | Prasannagad |
| Type | Hill Fort |
| District | Pune |
| Height above mean sea level | 3490 ft (1067 m) |
| Base Village | Chavand |
| Minimum Duration | 2 Days |
| Region | Junnar |
| Transport | Kalyan to Junnar (road, ~ 125 km) - Chavand (17 km) |
| Time to reach the top | About 1 1/2 hr from Chavand |
| Water Availability | Water cisterns are there but water isn't potable |
| Best season to visit | October to March |
| Sights to visit | Chavandai temple, water cisterns, Darwaja etc. |
| Difficulty Rating | Simple |
| Shelter | No proper shelter at the top, however one may take a shelter in the base village. |
Location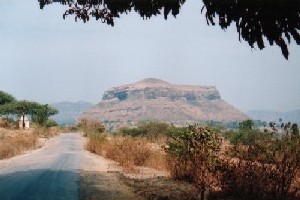 This is one of the 4 forts which guards Naneghat - the ancient trade route between Junnar (plateau) and Kalyan, Nalasopara (both in Konkan). Reaching Junnar, one has to catch bus to reach village Chavand which is only 17 km North-West of Junnar. Reaching the village, walk for about 20-25 mins to reach a school at the base of fort. From here, one can reach the top in a hour
Precaution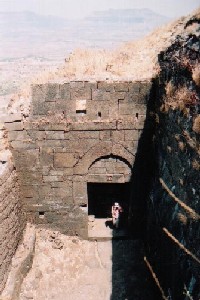 Water could be a big problem, especially in the summer season because there isn't any potable water source on the fort.
Railings on the fort are bit jerky, hence be careful with them.
The top being a bit grassy, always beware of reptiles.
Sight Seeing
The greatest attraction of this fort is probably 7 big water tanks (saat take)!! Though not potable, this tanks contains ample amount of water even in the summer.

The fort has a one Darwaja (gate) in a good condition. Remnants of a Mahadev temple are found atop and a water tank next to it.

Chavandai temple (~ 10 min from saat take) with a deepmal marks the highest point of the fort.
Note
All references regarding duration of trek and transport are given with respect to Kalyan, which is about 50 km north-east of Mumbai.
Contact
cdeepan@gmail.com Deepan Ashok Choudhary
abhijit.avalaskar@gmail.com Abhijit Ulhas Avalaskar
Last updated on : 1st Dec 2005