Sri Malang Gad
At a Glance
| | |
| --- | --- |
| Trek | Sri Malang gad |
| Alias | - |
| Type | Hill Fort |
| District | Raigad |
| Height above mean sea level | 2596 feet |
| Nearest Village | Kalyan |
| Minimum Duration | 1 Day |
| Region | Karjat |
| Transport | By Train reach Kalyan. Buses are available from Kalyan to the base of the fort on a regular basis |
| Time to reach the top | About 2 hours from the base |
| Water Availability | Water is available through the small hotels on the way. Best is to carry your own water from Kalyan. |
| Best season to visit | Any season except monsoon |
| Sights to visit | HajiMalang Dargah, Maachi and balekilla of the fort. |
| Difficulty Rating | Reaching maachi is quiet easy but going to balekilla is quiet tough |
| Shelter | No shelter is available |
Location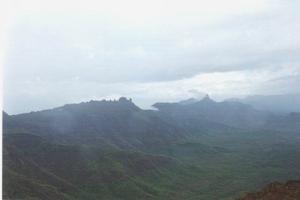 Situated at the border of Thane-Raigad districts is known more for the Dargah of Malang Baba, halfway up the mountain. But above the Dargah there is a much more hidden thrill for the trekkers, which one may not expect.
Shri Malang Gad is situated at a distance of 13 K.m. from Kalyan. Kalyan is well connected to Mumbai by rail as well as road. Frequent S.T. buses are available from Kalyan S.T. station to the base. About one and half hours climbing by steps will take you to the Dargah. 20 mins from Dargah up to the mountain will take you to the Balekilla (citadel). The pinnacle of the Shri Malang Gad is supposed to be the real challenge for the professional trekkers, but for amateur trekkers reaching the pinnacle by a very very narrow path should also be a thrilling experience.
Precaution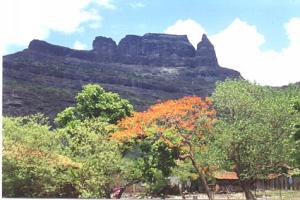 The way to the Dargah has many exhaustive steps (water is available throughout from the small hotel's). Beggers on th eway are irritating.
Sight Seeing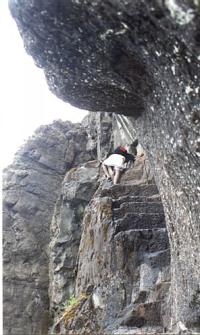 One can visit the Haji Malang dargah on the way to the fort. From the Balekilla (citadel) we can see Chanderi, Matheran range to the south, Kalyan city, Mahuli to the north and Mumbai (with part of sea)to the west.
For more photographs follow this link
Note
All references regarding duration of trek and transport are given with respect to Kalyan
Contact
cdeepan@gmail.com Deepan Ashok Choudhary
abhijit.avalaskar@gmail.com Abhijit Ulhas Avalaskar
Last updated on : 1st Dec 2005