Raigad
At a Glance
| | |
| --- | --- |
| Trek | Raigad |
| Alias | - |
| Type | Hill fort |
| District | Raigad |
| Height above mean sea level | 2830 feet |
| Base Village | Pachad |
| Minimum Duration | 2 Days |
| Region | Pune |
| Transport | Reach Mahad, a taluka place in Raigad district, by road. From Mahad, catch either bus or rickshaw to reach base village Pachad.(24 K.m.) |
| Time to reach the top | About 2 hrs from the base. |
| Water Availability | Gangasagar Talao(pond) at the top |
| Best season to visit | Any Time |
| Sights to visit | Darwajas (Gate), Rani Mahal, Gangasagar Talao, Shivaji Maharaj Samadhi, Takmak tok, Bhavani tok, Jagdishwar Temple, Rajwada and lot more...... |
| Difficulty Rating | Simple |
| Shelter | Dharmashala, MTDC rooms available |
Location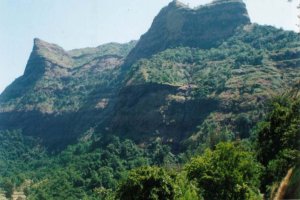 Undoubtedly the most honorable member of the Sahyadri ranges.........the capital of Swarajya! Clairvoyance of Shivaji Maharaj made the bare Rairi hill into The Raigad Fort! Surrounded by the strong hills from 3 sides, this was a unique place for him to have a capital
Situated some 30 km east of Mahad, this is a place for every Marathi person to visit. Reach Mahad by road and then to Pachad. a base village, by bus or local richshaw, about 2 hours simple trek will take you to the top. You can also go by a rope-way.
Sight Seeing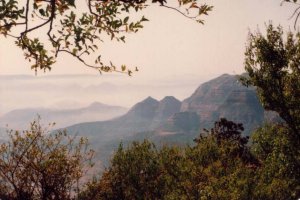 Raigad is one of the best preserved forts of Maharashtra. There are lots of sights that can be seen on raigad (Follow this link for map of raigad). While entering raigad one can see the Mahadarwaja (a replica of this Mahadarwaja is present at Sudhagad.). There are many tanks atop raigad to name few are Hatti tank, Gangasagar, Kolimb and Kushavart. Out of them Hatti tank was built for the elephants atop raigad. Kushavart was built for the Rani parivar. Today potable water is available from Gangasagar. One can also have a look around the Bazaar Peth. Main attractions on Raigad are Shivaji Maharaj's Throne and Shivaji Maharaj's samadhi. Shivaji Maharaj's throne is present in the Balekilla. This throne is made from five metals(Panchdhatu). Shivaji Maharaj's samadhi is near Jagdishewar's temple. One can even enjoy the views from Takmak & Bhavani Tok. Lodging facilities are available atop Raigad in the form of M.T.D.C. rest houses, if one want's a cheaper deal then he can spend the night at the dharmashala
Raigad being centrally located lots of other forts can be seen from Raigad(Map). From Bhavani tok one can see Lingana. Rajgad and Torna can be seen in the South-East . Sarasgad and Taila Baila are to the North-West and Makarandgad, Pratapgad & Vasota are to the South-West
More photographs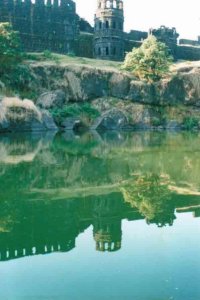 Watching a wonderful reflection of Rani mahal in the Gangasagar talao is a real joy! The entire construction of the Raigad was made out of the stones from the hill itself and this way Gangasagar talao took it's birth.
For more photographs follow this link
Note
All references regarding duration of trek and transport are given with respect to Kalyan
Contact
cdeepan@gmail.com Deepan Ashok Choudhary
abhijit.avalaskar@gmail.com Abhijit Ulhas Avalaskar
Last updated on : 1st Dec 2005