Sudhagad
At a Glance
| | |
| --- | --- |
| Trek | Sudhagad |
| Alias | Bhorapgad |
| Type | Hill Fort |
| District | Raigad |
| Height above mean sea level | 2030 feet |
| Base Village | Pachhapur-Thakurwadi / Dhondase |
| Minimum Duration | 2 Days |
| Region | Lonavala |
| Transport | 1) Kalyan - Pali - Pachhapur / Dhondase or 2) Kalyan - Nagothane - Pali- Pachhapur / Dhondase or 3) Kalyan - Khopoli - Pali - Pachhapur / Dhondase |
| Time to reach the top | About 1 1/2 hrs from the base |
| Water Availability | Water cisterns are available at the top |
| Best season to visit | Any Time |
| Sights to visit | Pant Sachiv wada , Takmak tok, Bhoraidevi temple, Shiv temple, Mahadarwaja etc. |
| Difficulty Rating | Simple |
| Shelter | Pant Sachiv wada, Bhoraidevi temple |
Location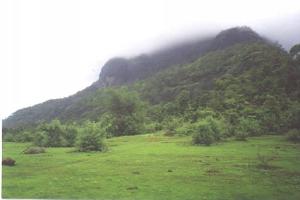 Located in the vicinity of Pali and endowed with about 50 acres plateau atop, Sudhagad offers a wonderful and a easy trek. Sudhagad, situated at the height of about 600 meters is well fortified by steep cliffs. Due to its qualities Sudhagad was actually proposed by Naro Mukund to Chhatrapati Shivaji Maharaj to make it the capital of Hindavi Swaraj. Shivaji Maharaj visited Sudhagad to survey it, but he chose Raigad because of its central location.
Sudhagad fort is situated in Sudhagad taluka, Dist:- Raigad. The central place of Sudhagad taluka is Pali, well known for its Ganpati Mandir which is one of the eight Ganpati Mandirs popularly known as Astavinayak. Pali can be reached in two ways from
Nagothane

Nagothane can be reached by Konkan Railway or S.T. buses. Nagothane-Pali distance is about 10 K.m.and frequent S.T. bus service is available, also six seater rickshaws are available

Karjat or Khopoli

Karjat or Khopoli can be reached by central railway. S.T. buses are available from Karjat and Khopoli to Pali.
Also there are two ways to reach the summit of Sudhagad from
Pachhapur-Thakurwadi

S.T. buses are available for Pachhapur-Thakurwadi from Pali. The first bus to Pachhapur-Thakurwadi leaves Pali at 7:15 a.m.One and half hours trek from Pachhapur- Thakurwadi will take you to the top.

Dhondse

S.T. buses are available for Dhondse from pali. The first bus to Dhondse leaves Pali at 8:15 a.m. This way to summit takes more time than the first way.
Precaution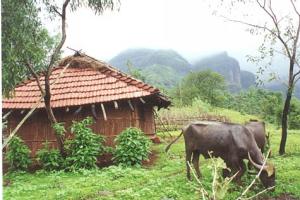 Take adequate amount of water supply from Pali itself , water supply may be obtained at Pachhappur-Thakurwadi but it is difficult to ascertain whether its potable or not especially in the monsoon. Potable water is also available at the top of Sudhagad.
Sight Seeing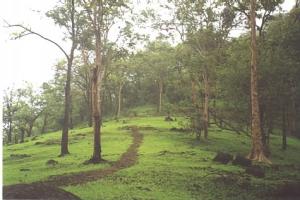 There are lots of places to visit on and around Sudhagad. On Sudhagad one can enjoy the echo's at Echo Point, nearby there is a Takamak Tok, in ancient times it was used to punish the convicted person by pushing him from it into the valley, but in present times it offers us with a mesmerizing panoramic views. Pant sachiva Wada is the place where a night stay can be made, Bhorai devi's temple- where one can take the blessings of Bhor provinces kuldaivat and Mahadarwaja greeting you on the way to Sudhagad from Dhondse. It's said that Sudhagad's Mahadarwaja is an exact replica of Raigad's Mahadarwaja. There are many lakes and pond's atop Sudhagad. One can even include Tailbaila,Ghangad and Thanale caves in the trek.
More photographs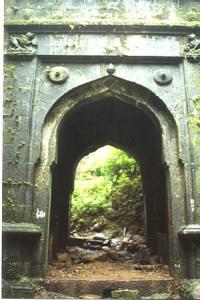 Sudhagad's Mahadarwaja.
For more photographs follow this link
Note
All references regarding duration of trek and transport are given with respect to Kalyan
Contact
cdeepan@gmail.com Deepan Ashok Choudhary
abhijit.avalaskar@gmail.com Abhijit Ulhas Avalaskar
Last updated on : 1st Dec 2005