Harishchandragad
At a Glance
| | |
| --- | --- |
| Trek | Harischandragad |
| Alias | - |
| Type | Hill Fort |
| District | Ahmednagar |
| Height above mean sea level | 4510 feet |
| Base Village | Khireshwar |
| Minimum Duration | 2 Days |
| Region | Malshej |
| Transport | Kalyan to Khubi Phata by bus and then Khubi Phata to Khireshwar (4 km) walk |
| Time to reach the top | About 3 1/2 hrs from the base |
| Water Availability | Water cistern are available at the top |
| Best season to visit | Any Time |
| Sights to visit | Number of Caves, About 100 years old temple of Lord Shiva, Kokan Kada , a big Shivlinga |
| Difficulty Rating | Simple |
| Shelter | Caves at the top |
Location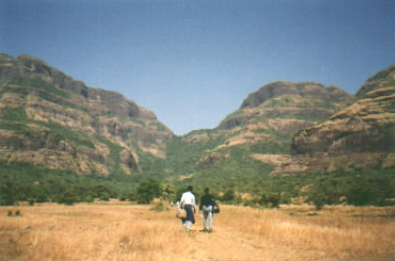 It is one of the ancient forts in Western ghats and is a dream trek to be undertaken atleast once (some of us might have visited Harishchandragad four-five times)
Harishchandragad situated at the top of Malshej Ghat is about 91 Km. from Kalyan. Kalyan is a main railway junction and one can easily reach kalyan by railway. From Kalyan one can board a state transport bus going through Malshej Ghat. S.T. bus will drop you at Khubi Phata, from Khubi Phata its an hour walk to Khireshwar, the base village. Actual climbing is from Khireshwar to Tolar Khind (about 1 hour climbing. After Tolar Khind there is a rock patch. Precaution and easy steps see you through it. Once the rock patch is gone it is a simple walk up and down small hills to the caves. Harishchandragad is necessarily a two day trek , one can do the overnight stay in the caves, which are clean and well maintained
Precaution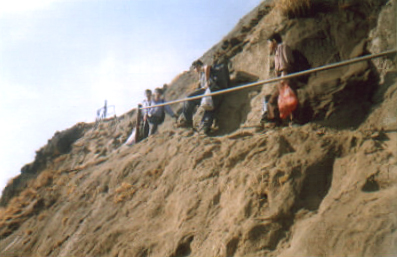 Carry ample amount of water from Khireshwar. After Khireshwar there are no water sources in the way till you get to the caves. The best season to visit Harishchandragad is winter especially the months of December and January. One should carry warm clothing's as its really cold at night. Lunch, dinner and snacks are also available at the top.
Sight Seeing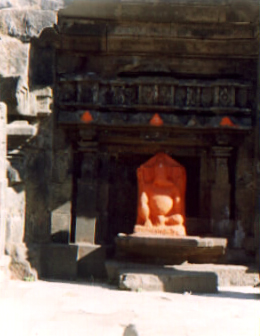 The major attraction of Harishchandragad is Kokan Kada . Its beyond description, one should actually see it to experience the nature's architecture. Konkan kada should be visited in the evening as well as morning. In evening one is enchanted by the sunset where as in the morning one can experience the divine feeling of being in the heavens. Taramati and Rohidas , the two peaks atop Harishchandragad, are also worth visiting as they offer beautiful views of the sahyadri ranges. The ancient temple of Lord Shiva atop Harishchandragad is also good sight for observing. An ancient temple and the caves present at the base village Khireshwar are also worth seeing.
Please follow the link to download the map of Harishchandragad. This map has been provided by courtesy of Mr. Mahesh Chengalva.
More photographs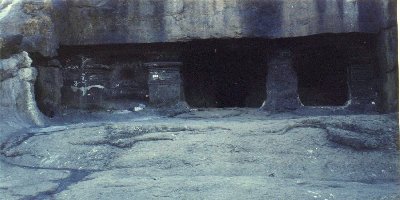 For more photographs follow this link
Note
All references regarding duration of trek and transport are given with respect to Kalyan
Contact
cdeepan@gmail.com Deepan Ashok Choudhary
abhijit.avalaskar@gmail.com Abhijit Ulhas Avalaskar
Last updated on : 1st Dec 2005